IC REVERSE ENGINEERING & DATA EXTRACTION TRAININGS
IC REVERSE ENGINEERING & DATA EXTRACTION – INCLUDING A SESSION IN OUR LAB
4-DAYS HANDS-ON SESSION IN SOPHIA ANTIPOLIS
Attend our hands-on training and discover how we open chips in our lab and how we do extract data from them
TOPICS COVERED: IC Reverse Engineering & Memories Extraction techniques & hardware attacks
Discover in this short video what happens to chips in our lab:
Register to our of our next sessions:
TEXPLAINED TRAININGS AT CONFERENCES: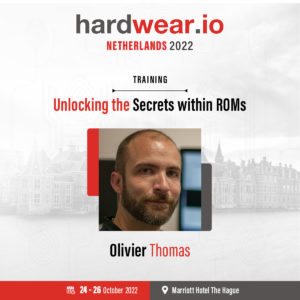 ---
TEXPLAINED TRAININGS IN YOUR PREMISES => Contact us for an Onsite Training organized for you in your premises!
---
CONTACT US TO ORGANISE A VIRTUAL TRAINING FOR YOUR COMPANY
---
CUSTOMIZE YOUR TRAINING
IC REVERSE ENGINEERING & CODE DUMP     //     From 2- to 5-DAYS SESSION
Modulate your session by assembling all or some of the following topics:
Theory: introduction on digital electronics and deprocessing techniques
Lab: Depackaging / Deprocessing / Imagery
ChipJuice: Image processing and Netlist Extraction
Theory : IC Reverse Engineering and attacks techniques
"The primary goal of this training is to provide Digital Forensics & Security Professionals as well as Government Services the skills, mindset and background information necessary to successfully:
Recover ICs internal architectures
Evaluate the efficiency of existing countermeasures
Extract NVMs contents (ROM & Flash), in order to analyze and evaluate the security of the embedded firmware, and extract secret informations
The Students will be shown how such informations can be used to define easier methods to find / exploit firmware + hardware weaknesses for vulnerability analysis as well as for embedded evidence extraction purposes.
ABOUT OUR TRAINING SESSIONS
The primary goal of our trainings is to provide security professionals and team leaders the skills, mindset and background information necessary to successfully perform the reverse engineering of Integrated Circuits (ICs), circumvent their hardware countermeasures and extract the data from them (Hardware and Firmware).
It is designed to give to Integrated Circuit professionals a deep understanding of the complete Reverse-Engineering and Attack chain to help them better understand the hardware and the way it is protected, but also to discover how to exploit the intrinsic weaknesses in order to recover fundamental data like Netlists and NVMs' binaries in clear.
Students who complete this course become familiar with all important classes of low-level hardware attacks (shield and hardware counter-measures bypass – ROM and Flash/EEPROM dump – bus passive and active probing – …) through real world examples covering the entire analysis workflow from the lab to the data analysis.
The training describes modern analysis methods involving automation and discuss the efficiency of modern counter-measures in such a context.
"I had doubts on the fact that IC Reverse Engineering was possible. Now I know."
"The course gives great insights about the IC's internal."
"Assignment book is great material."
"The training on IC RE was very good. Overall, Mr Thomas' presentation was well adapted to the audience."
"Overall a very good course. I learned a lot. Would definitely recommend."
"Very knowledgeable in IC security. Would definitely take a second level course taught by Olivier Thomas."